Top product: Panasonic DMP-BDT220

The top product of this week is a Blu-ray player: The Panasonic DMP-BDT220.
It is no longer necessary to have a brand new Smart TV to be able to use the Smart functionality on this Blu-ray player all you need to do is connect it to your HD television and start reaping the benefits.
Your DVD collection can also receive a make over, as the DMP-BDT220 3D Blu-ray player will play these at near Blu-ray quality.
You can take your entertainment further with this Panasonic Blu-ray player. Explore online Internet content, with Panasonics cloud based internet service Viera Connect, you can stream movies and TV shows from Netflix, create personalized Internet radio stations with Pandora, or check the local weather using Accuweather.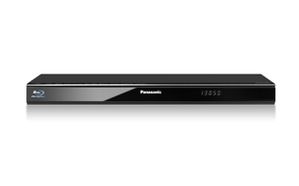 Experience the best of home viewing thanks to the high quality image-processing technology that produces the sharpest picture clarity in both 2D or 3D. You can even convert those movies to 3D to add a new dimension to them.
The DLNA-certified Blu-ray player with HDMI and USB connection makes it easy to share content though your home network. So you can enjoy the benefits of the DMP-BDT220EB on your PC or laptop, or another TV in your kitchen.
Specifications
• Type: 3D Blu-ray player
• 3D compatible: Yes
• Playable discs: Dolby Digital Plus/ Dolby TrueHD
DTS-HD Master Audio Essential/ DTS-HD High Resolution Audio
• Network connection: WiFi Ethernet
• DLNA: Yes
• Power consumption: 9.9W
• Dimensions: 16.9 in x 7 in x 1.5 in
• Weight: 3.5 lbs