Top product: Dyson Hot AM04

The top product of this week is a device dedicated to the comfort of your home, the Dyson AM04.
The principle of ventilation without blades is similar to Dyson Air Multiplier, but now the heating function is integrated.
Which makes the Dyson AM04 a dual function device: heating in winter and fan in summer.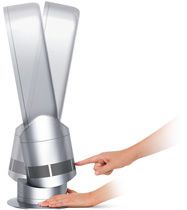 In addition, the oscillation and the possibility of inclination help to distribute warm air anywhere in the room.
Thanks to its technology, this column provide an immediate rise in temperature, while consuming low energy.
Supplied with a remote control, Dyson AM04 is available in two colors, iron / blue and white / silver.
A video presentation by James Dyson himself.