Microsoft Skydrive and Google Drive: the online storage war is declared!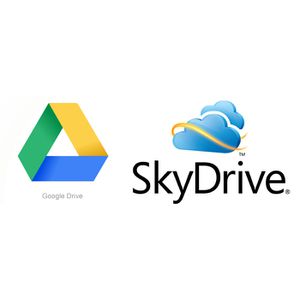 With the current technology advances, we still need more storage for to archive our datas. Also be able to access our files from anywhere becomes commonplace. And that Google and Microsoft have understood. A brief overview of online storage services, Skydrive and Google.
Start with Google Drive. The Mountain view company offers by default a 5GB storage space, free, accessible from anywhere. It's a veritable collaboration tool that allows store but also share your Google Docs and edit by several persons from any device.
If the 5GB are not enough, you can opt for a subscription of 25GB for $2.49/month, 100GB for $4.99/month, or if you are greedy, 16TB for $799.99/month.
Google Drive is available for Pc and Mac, Android devices and soon for iPhone and iPad.
Microsoft also turns to cloud computing with its Skydrive. Their service also offers a free 7GB online storage and accessible from a PC, Mac, iPad and smartphone thanks to the Skydrive app, wherever you are. You can add 20GB for $10 per year, 50GB for $25, or 100GB for $50.
One thing is sure, the future of datas storage is in clouds, you will be spoilt for choice!