Four new windows phones announced at WPC11
Microsoft introduced four new smartphones at the Worldwide Partner Conference. The four are equipped with the Mango OS for Windows Phone.

Manufacturers are Samsung, Acer, Fujitsu and ZTE. The models presented by Samsung and ZTE are entry-level (a segment missing in Windows Phone).The Fujitsu is a waterproof model. Samsung (internally called the SGH-i937) will be one of the lightest and finest of the market, and will have a front camera.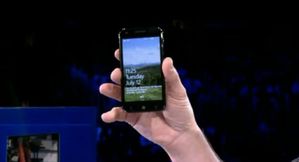 Although the market share held by Windows Mobile 7 is less than what would have preferred the Redmond company, the manufacturers seem to have confidence in the future of the platform.

The launch of new mobile phone with Windows 7 is imminent and it is only an appetizer for what awaits us. Remember that HTC and Nokia make phones with this OS, so we can expect a wide range. Now it will take on the Windows Phone and they are one option to consider for your next renewal smartphone.

After watching the video below, dare to say that Samsung is not beautiful!